Packaging Cost Models
Packaging "Should Cost" Model Software
We have a complete range of packaging cost and optimization software covering virtually all packaging segments. This cost effective software can be used "off the rack" or customized for your situation by our software developers.
One of the most important values of our software are the extensive User Guides and Coaching which is included with the purchase of our Models. This ensures outstanding accuracy.
The Optimization or Should Cost modules within the software allows packaging sourcing people to pinpoint opportunities for improvement with their suppliers.
This is a highly valuable tool for Lean / Six Sigma resources.
The chart below illustrates graphically how this works.
Graphed Output for a Flexible Packaging (Data for Illustration Only)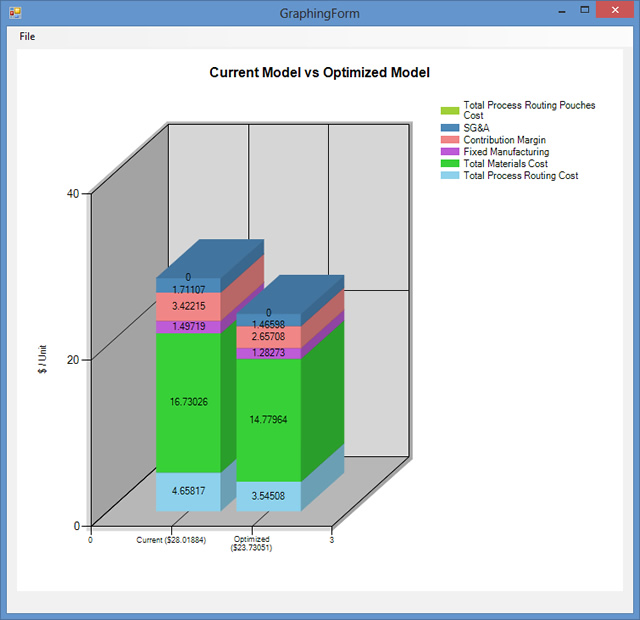 Models may be used by an unlimited number of individuals in your company within the User Agreement.
Our models can accommodate a number of different currencies and purchase units as indicated in the screen shot below.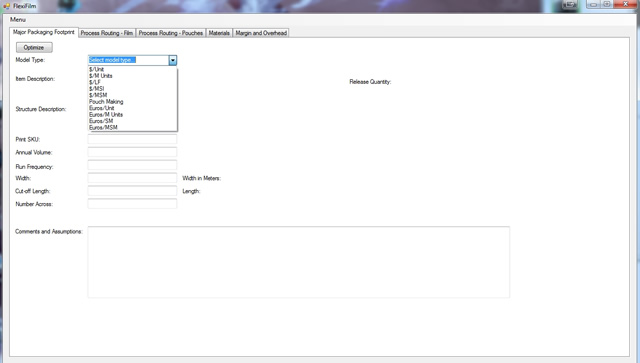 The models are equipped with drop down menus for material selection. Material consumption is automated from tables built into the software.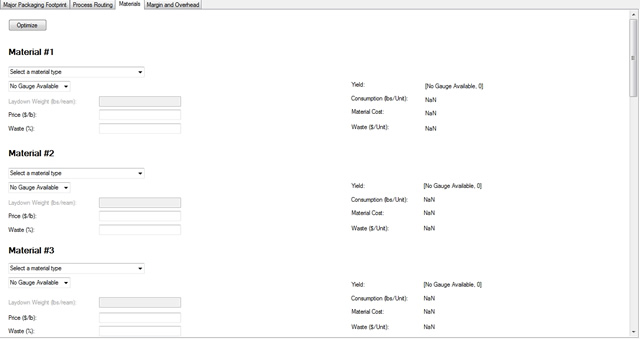 Printing data is a key strength of our Models. The screen shot below illustrates how our Models automatically calculate ink consumption and print cost using the number of colors, type of ink, % coverage; and ink price / lb.
Ink & Coating Cost Inputs & Outputs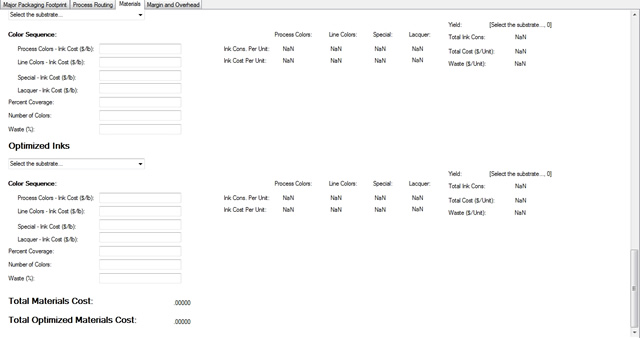 Model Types
Corrugated Containers
Tubes
Metal Cans
Flexible Packaging
Thermoform Trays
Plastic Bottles
Labels
Closures
Folding Cartons
Pouches
Overwraps

Cost Effectiveness
Pack Trax Cost & Optimization Models are highly cost effective. Model prices start at just $6995. There is no additional licensing or multi-user costs. Training is included. All Model updates for the first 12 months are included.
Customization to your specific needs is highly cost effective.